In June 2021, Bitman introduced to the blockchain community Antminer L7, which is closely friendly with the Scrypt algorithm. Specially developed software for it shows high speed of hash algorithm enumeration. Built-in APW12 stabilizer provides a guarantee in work stability.
With its help miners will be able to «mine» the popular Dogecoin coin, the rate of which is influenced by the billionaire Ilon Musk and the Litecoin token. It is also possible to earn money on less well-known cryptocurrencies: DigiByte, Novacoin, Verge and others. Those who know at least a little bit about mining, after reading the characteristics of this ASIC, probably immediately have the desire to buy Antminer L7.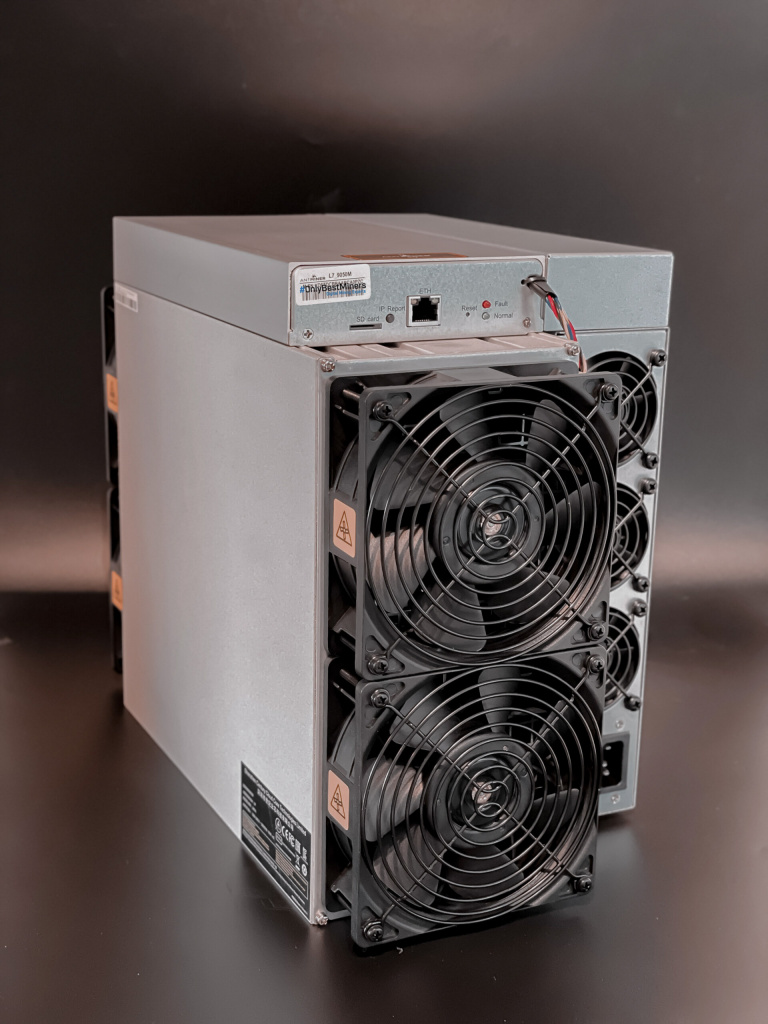 Demand for Antminer L7
The claimed power efficiency of the ASIC is 0.36J/MH, which means that with a 9050Mh hash rate it should consume 3258W. The dimensions are 19.5x37x29 cm, which will take up little space in a dry and well-ventilated room. The operating temperature range is -5°C to 40°C. It has received special attention from experts because of the use of 5nm chips.
The equipment has 4 fans cooling the hash board and an additional 3 power supplies. Yes, it makes a lot of noise, up to 75db, but what a result! It has no rival in the Scrypt algorithm. Antminer L7 surpasses its «ancestor» - the model L3 + in terms of power by 19 times. The new model will take up much less space and will create less noise than 18 of its predecessors and will be better cooled.
Here is a comparison table:
| | | | | |
| --- | --- | --- | --- | --- |
| Name | Hashrate | Energy consumption | Energy efficiency | Profitability per day |
| Antminer L3+ | 504 MH/s | 800 Wt/h | 1,6 J\Th | от 0,78$ до 2,44$ |
| Antminer L7 | 9050 MH/s | 3258 Wt/h | 0.36J/MH | от 13.98$ до 43.75$ |
The yield is calculated on 3 coins of the Scrypt algorithm per day:
DOGE (L3+ - 2.44$) и (L7 - 43.75$)

LTC (L3+ - 0.80$) и (L7 - 14.43$)

DGB (L3+ - 0.78$) и (L7 - 13.98$)
Recall that in April 2021 the demand for Antminer L3+ increased sharply. And the reason for that was the tweet of Ilon Musk Dogecoin, which went up by 17% in a few minutes. At that moment the market began to grow actively, and all alcoins followed bitcoin, including Litecoin, and L3+ yields went up sharply. Now it's time for a new generation in the form of Antminer L7.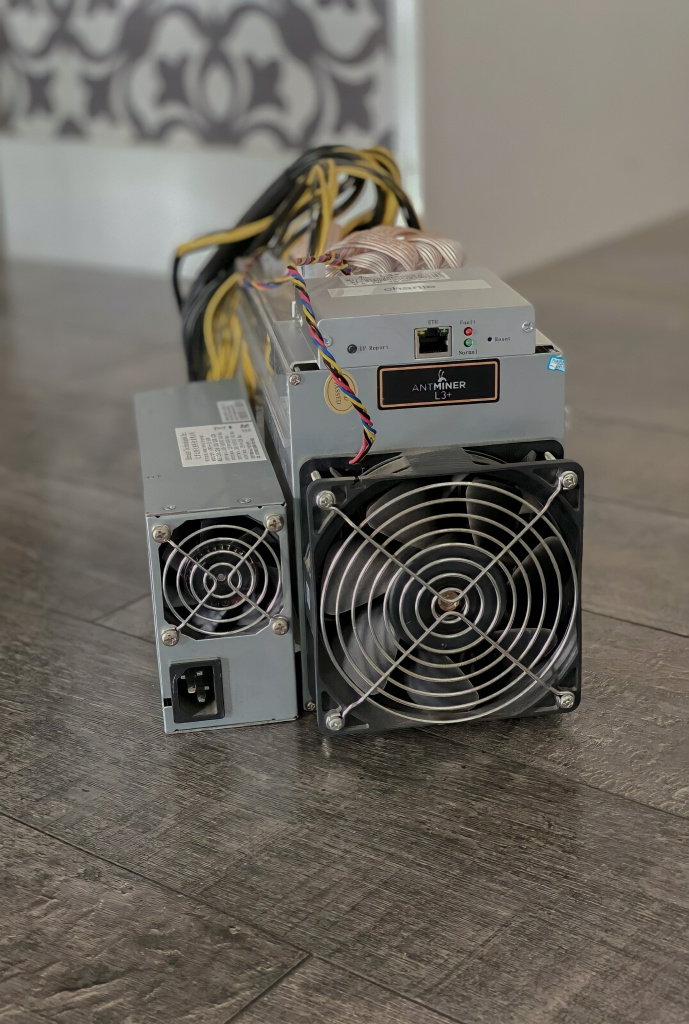 Photo Antminer L3+
At the moment Antminer L7 is higher in profitability than the most powerful Bitcoin miners such as Antminer S19, S19a and Whatsminer M30. Compared to L7, only Etherium and Cardano miners such as: Innosilicon A11 and Goldshell LT5 can be more profitable.
Is it profitable to buy Bitmain Antminer L7?
As of April 25, 2022, Antminer L7 will have a payback period of 518 days. The exact cost depends on the electricity consumption, and the rate of digital coins is constantly fluctuating.
To find out the actual data, go to the «Yield» tab and enter the values of your ASIC.
Of course, after the release the numbers will change, but the overall performance will remain the same. Moreover, there are more than a dozen of proven and available cryptocurrencies running on the Scrypt algorithm.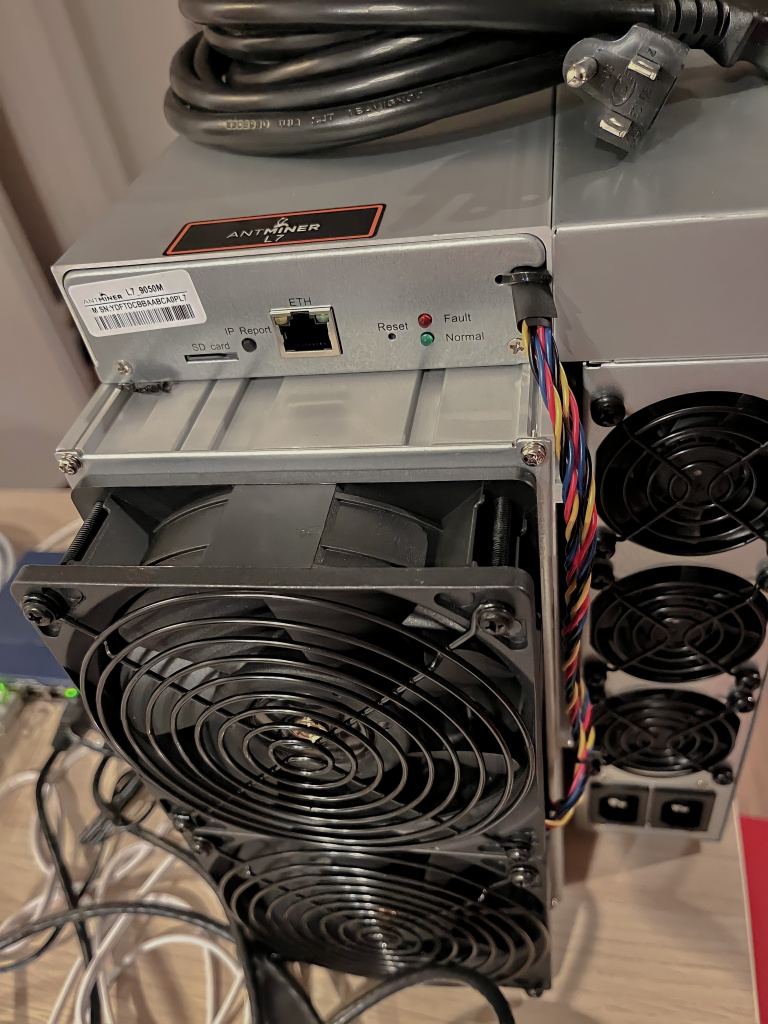 Connecting and setup
Setting up Antminer L7, as well as any other ASIC is done through the web interface. If you have ever connected a new router yourself, it will be much easier. Before you start the setup, start your computer and install the IP Reporter software.
To connect you will need 2 power cables with a C13 connector and a 3x1.5mm cross section, and a LAN cable to connect the ASIC to the router. Plug the device into the socket, connect it to the router. You can monitor the operation process on the pool website.
Conclusion
Cryptocurrency mining is a profitable business and new models of equipment appear on the market. ASIC is primarily designed for large data centers, but if you can place it so that the noise of fans does not disturb anyone, you will not find more profitable equipment. A miner, unlike an investor, is not tied to a particular project and can switch to another one in case of bankruptcy of one cryptocurrency.
If you want to buy this equipment, contact our company Crazy Mining. Fast ASIC delivery and consulting is guaranteed.